Suji ka Halwa Recipe | How to make Suji Halwa | Sheera Recipe – Step By Step Recipe with images and Video.
Do you want to learn how to make amazing and most testy Sooji Ka Halwa at your Home? If yes, then you must read this post.
In this post, I will share an easy and step by step recipe to make amazing Sooji Ka halwa at your Home.
So without wasting any time, let's start this recipe.
Ingredients Suji ka Halwa Recipe
Suji ka halwa video Recipe
Trending Post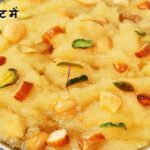 Print
Suji Ka Halwa
In this recipe you are going to see a very easy recipe of suji halwa even you are a beginner you can also make it easily.
Materials
1/2

cup

Sooji 

1/2

cup

Sugar 

2

tbsp.

Ghee 

8

Cashew Nuts

8

Almonds 

8

Pistachio 

Raisins

1/4

tbsp.

Cardamom powder 

Saffron Milk
Instructions
To make granulated delicious halwa, firstly take 1/2 cup semolina, 1/2 cup sugar, 1/2 cup ghee.

Now put a pan on the gas and add 1/2 cup ghee in it and heat it well.

Now put cashews, almonds, and pistachios in the ghee and fry it a little on low flame, and after some time add Raisin in it.

Now take out the dry fruits strictly.

Now put 1/2 cup semolina on low flame in hot ghee and roast it for 3 minutes while stirring it.

Now semolina have started leaving ghee.

Now put 3/2 cup water in the pan and stir it on low flame.

 Now put half the sugar in the pan and add half of the sugar when the semolina soaks up.

Add to it now 1/4 tbsp. Cardamom Powder.

Now on medium flame, let it cook for 1 to 1.5 minutes with a lid.

Now add the remaining sugar, add dry fruits, and add 2 tbsp. Saffron Milk

Now mix everything well while driving everything on low flame.

And now your delicious semolina pudding is ready, you can try it and enjoy it.

Now your last step is that in the comment, tell us how you found this post recipe.
Suji ka Halwa Recipe – Step By Step
1 – To make amazing Sooji Ka Halwa, first take 1/2 cup of sooji(do not use fine suji to get danedar halwa), 1/2 cup of sugar, 1/2 cup of ghee.
2 – Now, place a pan on flame and add ghee to it and melt well.
3 – After ghee melts, add 8-10 chopped cashew, 8-10 chopped almonds, chopped pistachio and roast well on low flame.
4 – After dry fruits turn a little pink, add raisins into the pan and roast well.
5 – When dry fruits turn golden, take them out to a plate.
6 – Now, add sooji and roast into hot ghee until bubbles settle down and stir continuously.
7 – After sooji, start releasing the ghee, add 3/2 cup of water and mix well.
8 – Now add 1/4 cup of sugar and mix well.
9 – Now add 1/4 tsp of cardamom powder, and mix well.
10 – Now, close the lid and cook for 1-1.5 minutes.
11 – After 1 minute, remove the lid and add 1/4 cup of sugar, roasted dry fruits, saffron milk.
12 – Now, on low flame, mix everything well and cook for some seconds.
13 – Now turn off the flame, and you can serve it.
14 – Now your Sooji Ka Halwa is completely ready, and you can enjoy it.