Hey! I am Parul Gupta and I live in Bengaluru.
I did my Graduation from Aligarh Muslim University in 2001. I have done my MBA from Aligarh Muslim University in the year of 2003. After completing my education I started teaching in a School as a hobby then I got married. After that, I worked with MNCs and banks. Soon, I embraced motherhood and gave birth to my Son. To manage my home on my own and to take care of my kid, soon I left my job.
I was juggling between daily house chores and different roles in my personal life.
I came from a family where everyone is a big foodie. So, now you know that Food and cooking are in my genes, haha!! I am working as a housemaker every day but this never came in between my passion for food and trying new cuisines at home. One day my husband encouraged me to start my journey as a Youtuber. So in 2017, I started my Cooking Channel Cook With Parul and soon I have got recognition from all over the world. People showered so much love on me that I became one of the famous influencer Chef on Instagram as well and they became my family.
When lockdown hit in India, I polished my cooking skills and worked on my culinary skills. My hard work paid off when YouTube appreciated me in Lockdown saying Cook With Parul trending at the No.1 position on YouTube and I gained 1 million subscribers within a month. I was over the moon. In 2022, a News Channel recognized me and aired one of my recipes on their TV Show, called Saas Bahu Aur Saajish. In the same year, Forbes India identified me as India's biggest, best, and most creative digital creator in 2022 across 9 key categories. Selected in 🏆 India's Top 100 Digital Stars 2022. In 2023, I got Creators United Global 2023 Food Creator of the year Award.
I wish and hope from now onwards I only move ahead and touch the sky.
Thank you for reading this!!
Cook With Parul Motto
The motto of her channel is 'Simple, Easy & Authentic Recipes.
Her simple recipes with easily available ingredients helps her viewers make food that everyone will love. Her goal on YouTube is to make her recipes available to each and every one so they can enjoy good, delicious and tasty food from the comfort of their homes.
---
---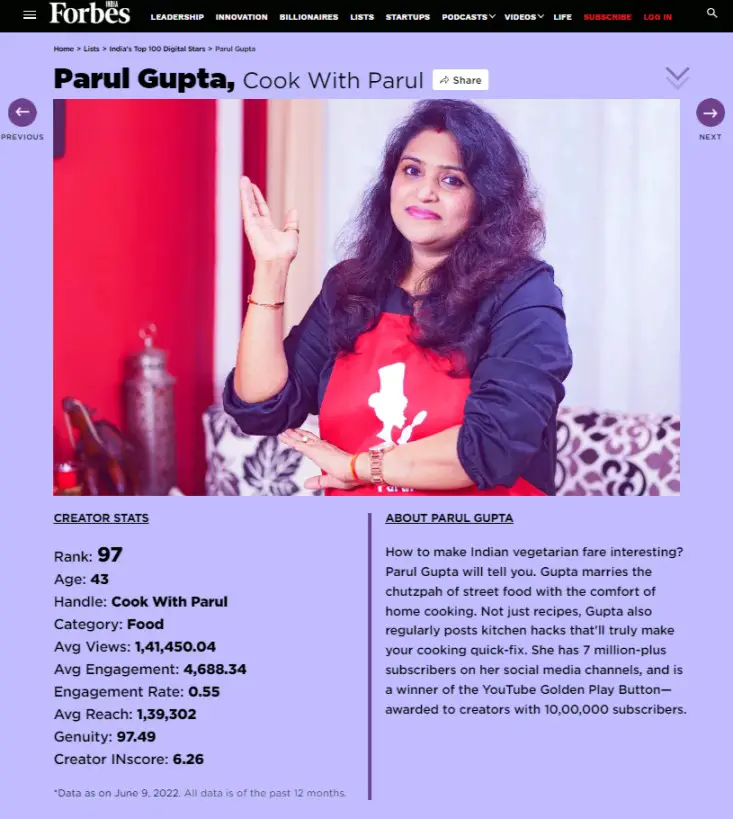 ---
Cook With Parul Saas Bahu Aur Saazish
---
Instagram Posts
 

 

View this post on Instagram

 
 

 

View this post on Instagram

 
 

 

View this post on Instagram

 
 

 

View this post on Instagram