Pav Bhaji recipe | How to make Mumbai style Pav Bhaji at Home | Easy Pav Bhaji Recipe – Step By Step with Images and Video.
यदि आप इस पोस्ट हो हिन्दी में पढ़ना चाहते है तो यहाँ क्लिक करें – Pav Bhaji recipe in Hindi.
Do you want to learn How to make perfect Mumbai style pav bhaji at your Home? If yes, then you must read this post?
This post will show a simple recipe to make amazing Pav bhaji at your Home. I will also share all tips that most Mumbai Pav bhaji shop owners use to make their pow bhaji taste amazing.
So without wasting any time, let's start this recipe.
What is Pav Bhaji?
Pav Bhaji is a convenience food dish from Mumbai (Bombay), India, consisting of a vegetable curry (Bhaji) prepared in tomato gravy and served with a soft bread roll (pav).
While Bhaji is a typical Indian name for a vegetable meal, the Pav or Pao was the Portuguese word for bread, which they introduced throughout their brief presence in Mumbai around the mid-1500s.
Pav bhaji is currently supplied at electrical outlets from essential hand carts to formal restaurants in India and abroad.
How Pav Bhaji Made?
Pav bhaji is a spiced mixture of mashed veggies in a thick gravy offered with bread. Vegetables in the curry may commonly include potatoes, onions, carrots, chillies, peas, bell peppers and tomatoes.
Street sellers typically cook the curry on a flat frying pan (Tava) and offer the recipe warmth. A soft white bread roll is the typical accompaniment to the curry, but this does not prevent the use of other bread selections such as chapati, roti or brownish bread.
Ingredients of Pav Bhaji Recipe 
Pav Bhaji video Recipe
Trending Post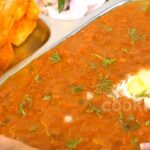 Print
Pav Bhaji recipe
Today I am going to share with you the Best Pav bhaji recipe. Pav bhaji is one of the best Marathi Dish and everyone loves Pav bhaji.
Materials
3

Chopped Potato

1

Chopped Carrot

3

Chopped Tomato

1

Chopped Beetroot

1

cup

Fresh Green Peas 

1/2

cup

Water 

1

tbsp.

Salt 

2

tbsp.

Butter 

1

tbsp.

Oil 

1

tbsp.

Cumin Seeds

2

 Chopped Onion

1

Capsicum 

2

Chopped Chilly

1

tbsp.

Ginger Garlic Paste

1

tbsp.

Kashmiri Red Chilly Powder

2

tbsp.

Pav Bhaji Masala

1

tbsp.

Kasuri Methi

1/2

tbsp.

Lemon Juice
Instructions
Take a cooker and Put it on to the Gas.

Now add 2 to 3 chopped Potatoes, add 1 chopped Carrot, add 3 chopped tomatoes, add 1 Chopped Beetroot and add 1 cup Fresh Green Peas.

Now add 1 tbsp. of salt and Mix, everything's well.

Now Put the Lit on the cocker and cook until two whistles.

 Now Put a Pan on Gas and turn flame on Medium.

Now add 2 tbsp. of Butter, 1 tbsp. of Oil and melt them.

Now add 1 small tbsp. of Cumin seeds.

 Now finely add 2 chopped onions.

Now fry until it becomes Golden.

Now add 1 chopped capsicum and fry.

Now add 2 chopped 2 chili.

Now add 1 tbsp. of Ginger garlic paste and sauté on a medium flame for 2 Minutes.

Now add 2 tbsp. of Kashmiri red chili powder, add 2 tbsp. of Pav Bhaji Masala and fry everything.

Now add 2 – 3 tbsp. of water cook until oil release.

Now check cooked Vegetable's everything is cooked well (do not throw water).

Now Mess everything's with a Messer.

Now add all Vegetable Mixture into the Masala.

Now Mix everything's and cook for 5 Minutes unlit everything's Mix and messed well.

Now if you see Bhaji is Thick you can add some water and mix everything.

Now add 1 tbsp. of salt, add 1 tbsp. of Kasturi Methi and cook for 2 Minutes.

Now ½ Tbsp. of Lemon Juice.

Now add 1 tbsp. of butter, coriander and Now your Delicious Bhaji is Ready and let's go to our next step.

Now Put a tawa on gas.

Now add 2 tbsp. of Butter.

Now turn the gas flame on low and add 1 tbsp. of Kashmiri red Chili and add some bhaji.

Now add coriander, add some bhaji and mix well.

Now take pav and cut in the center.

Now put pav on the pan and heat.

Now your Pav bhaji is ready to serve and you can enjoy it.
Notes
Some Extra Tips:
Tip – 1 if you don't like any vegetables we shown in this recipe you can also try vegetable according to you.
Tip – 2 If you don't like Butter and you don't have butter you can also use oil or Ghee.
Tip – 3 Use Beetroot or use Kashmiri red chilly this will make Bhaji color more red.
Tip – 4 Must mess mess bhaji well so it will become smooth in consistency.
यदि आप इस पोस्ट हो हिन्दी में पढ़ना चाहते है तो यहाँ क्लिक करें – Pav Bhaji recipe in Hindi.
Pav Bhaji Recipe – Step By Step
1 – To make the Perfect Mumbai Style Pav Bhaji at your Home, first place a Cooker on medium flame.
2 – Now add three chopped potatoes, one chopped carrot, three roughly chopped tomatoes, one chopped beetroot, 1 cup of fresh green peas, 1/2 cup of water.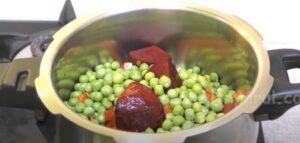 3 – Now add 1 tsp of salt, mix well, close the lid, and cook until two whistles on high flame.
4 – Now place a wide pan on medium flame, add 2 tbsp of butter, 1 tsp of oil to it, and melt well.

5 – After butter is hot, add 1 tsp of cumin seeds, two chopped onions, and saute until golden.
6 – After the onion turns a little golden, add one chopped capsicum and cook for some time.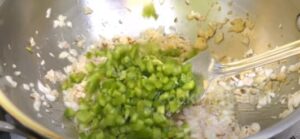 7 – Now add 2chopped green chili, 1 tbsp of ginger garlic paste, mix well and saute on medium flame.
8 – After 2 minutes, add 1 tbsp of Kashmiri red chili powder, 2 tbsp of pav bhaji masala, and mix well.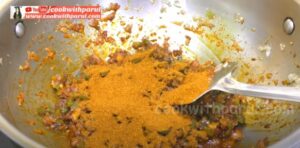 9 – Now add 2 tbsp of water and cook on low flame until it releases the oil.
10 – After Masala starts releasing the oil, turn the flame to low.

11 – Now, After two whistles, check the cooker and remove the lid.
12 – Now mash all vegetables with a masher in the cooker.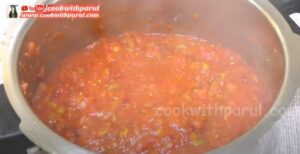 13 – Now add mashed veggies into the pan, mix well, and cook on low flame for 5 minutes.
14 – After 5 minutes, mash it well again with a masher and cook for 2 minutes.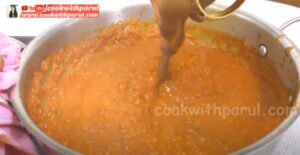 15 – Now add 1/2 cup of water to adjust the consistency and mix well.
16 – Now add salt as per taste, 1 tsp of Kasuri methi and mix well and cook for 2-3 minutes.
17 – Now add 1/2 tsp of lemon juice, finely chopped coriander, butter, and your Mumbai style Bhaji is ready.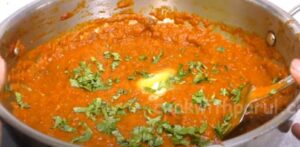 18 – Now, to Make Pav, place a Tawa on flame, add 2 tbsp of butter, and melt.
19 – Now add little Kashmiri red chilli powder, little prepared Bhaji, chopped coriander, and mix well.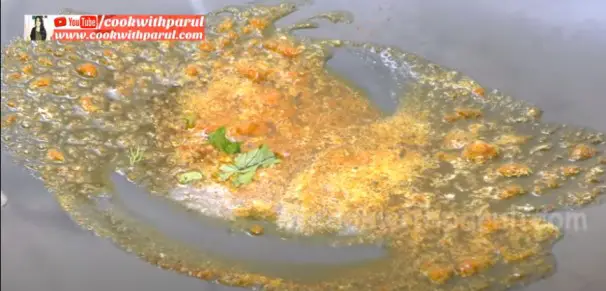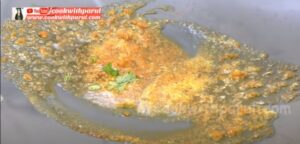 20 – Now take a Pav and cut it on center and place it on Tawa.
21 – Now apply butter on Pav and roast it on both sides.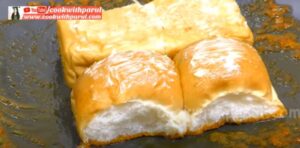 22 – Now transfer the Pav to a plate.
23 – Now, you can serve your Most Tasty Pav Bhaji and enjoy it.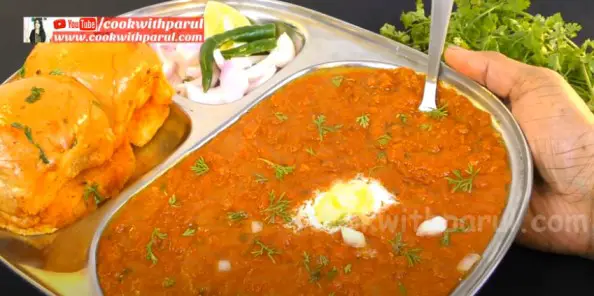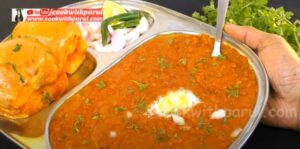 How to Serve Your Pav Bhaji 
Pav bhaji is a recipe that can be appreciated at any kind of hr of the day, be it for breakfast, lunch, or probably supper. It is an essential Indian treat dish.
The best way to delight in Pav bhaji is to serve it with toasted pav buns, some cut onion, and lemon with cut tomatoes to choose it.
Do not forget to garnish the Bhaji with tons of butter on the top!
Best tips To make your Pav Bhaji Testier 
1 – You can offer your very own combination twist to this delicious vegetarian dish by garnishing it with some grated cheese and also spray some red chilli flakes.
2 – You can also garnish Pav Bhaji with cut onions as well as green chillies.
3 – If you like a darker Pav Bhaji, include Kashmiri red chilli powder during food preparation.
4 – additionally, mash the baji well to obtain smooth, silky consistency.
5 – ultimately, pav bhaji dish preferences are excellent when served hot as well as spicy.
यदि आप इस पोस्ट हो हिन्दी में पढ़ना चाहते है तो यहाँ क्लिक करें – Pav Bhaji recipe in Hindi.