Ragda chaat Recipe | Matar Chaat Recipe | How to Make Ragda Chaat – step by step with images and video.
यदि आप इस पोस्ट को हिन्दी में पढ़ना चाहते है तो यहाँ क्लिक करे – Ragda chaat Recipe in Hindi.
Today everyone is going to share with you the recipe for making your favorite street ragda chaat, which you can easily make at your home.
The chaat made with this recipe tastes exactly like the market chaat, which can bring water to your mouth as soon as you see it.
So let's know about our recipe.
Ingredients List
Ragda chaat V
ideo Recipe
Trending Post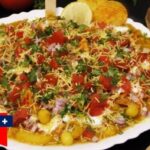 Print
Ragda Chaat Recipe
In this post you will see an amazing Recipe Of Ragda Chaat and this is a very easy recipe.
Materials
1

cup

White Peas/Vatana

2

cup

Water 

1

Chopped Potato 

1

tbsp.

Salt 

1

tbsp.

oil

1

tbsp.

Cumin Seeds

1

pinch

Asafetida 

2

Chopped Green Chili

1

Finely Chopped Onion

1

tbsp.

Ginger Garlic Paste

2

Finely Chopped Tomato

1

tbsp.

Salt 

1/2

tbsp.

Turmeric Powder

1

tbsp.

Red Chili Powder 

1

tbsp.

Cumin Powder

1

tbsp.

Garam Masala 

Finely chopped Coriander

Hara Daniya Chutney

Imli ki Chutney

Potato Chips or Papdi

Finely Chopped Onion

Curd

Chaat Masala

Salt

Red chili powder

Lemon Juice

Sav

Finely Chopped Coriander
Instructions
To make Ragda Chaat, first of all, take 1 cup of white peas and soak it in water for one night.

Now drain the water and place a cooker on the gas and put 2 cups of water and white peas in it.

Now add 1 chopped potato in the cooker, and also add 1 tbsp. Salt.

Now put the lid of the cooker and cook till 3 to 4 whistles come.

Now turn off the gas and let all the pressure of the cooker go out.

Now put a pan on gas on medium flame and add 1 tbsp. of oil in it.

After the oil is heated, add 1 tbsp. Cumin seeds, 1 tbsp. Asafoetida, 2 tbsp chopped green chilies.

Now add 1 finely chopped onion and mix it well.

Now add 1 tbsp of ginger garlic paste and fry them well.

Now add 2 finely chopped tomatoes of medium size and fry them well.

Now add 1/2 tbsp of salt and mix everything well.

Now add 1/2 tbsp of Turmeric powder, 1 tbsp. of red chili powder, 2 tbsp of Coriander powder, and 1 tbsp of cumin powder in it.

Now mix all the spices well and fry them.

Now add it in boiled potatoes and peas and mix everything well and let it boil for 2 minutes.

Now turn off the gas and now add 1/2 tbsp garam masala along with finely chopped coriander and mix everything well.

To serve Ragda Chaat take a bowl and chaat in it and now you add coriander chutney and now you add tamarind chutney and finally you add potato chips.

 Now add finely chopped onion and some green chilies and after that add curd.

Now add finely chopped tomatoes and also a little salt and red chili powder.

Now Add lemon juice in the last and you put finely on top and now you add finely chopped coriander.

Your street style Ragda Chaat is ready and you can enjoy it.