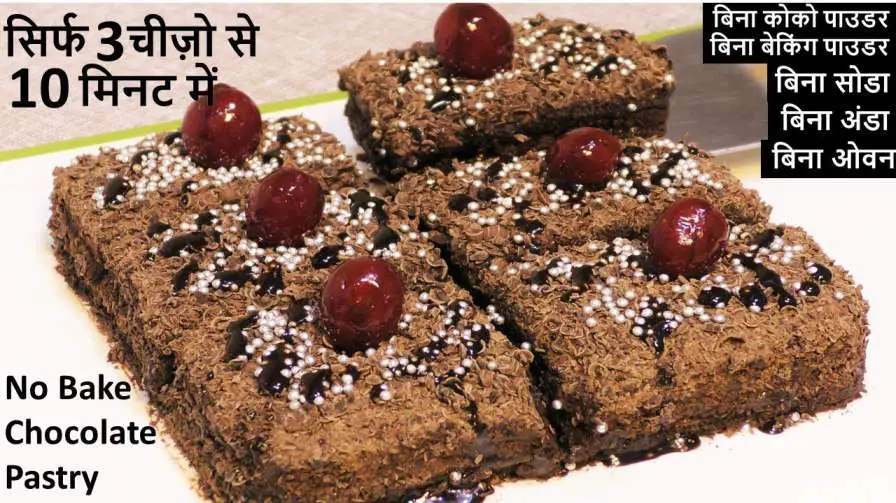 सिर्फ 3 चीज़ो से 10 मिनट में बाजार जैसी सॉफ्ट चॉकलेट पेस्ट्री वो भी बिना गैस जलाये Chocolate cake
INGREDIENTS
Chocolate Biscuit – 500 gms
Chocolate Syrup – 1/2 cup
Fresh Cream – 1/2 cup
Choco Chips – 1/2 cup
Chocolate Shavings
Silver balls
Cherry
To make chocolate pastry take a bowl,Add all the biscuits into it.
Add biscuits into a grinding jar.
Make fine powder and transfer into a bowl.
Add Chocolate Syrup into biscuit powder and mix well(Use 3 tbsp butter and 1/2 cup milk in place of chocolate syrup).
Add chocolate syrup in batches and prepare a dough.
Take Fresh Cream and heat it do not boil.
Add choco chips into hot cream and mix well.
Keep instant Ganache in fridge for 10 mins.
Divide dough into 2 equal parts and prepare balls.
Take a butter paper or plastic sheet.
Place dough ball and Roll dough with roller pin,Roll by giving shape from sides.
With a knife Cut all sides to form square
Prepare same way with the second dough ball.
Take one square dough and Add 1 tbsp ganache and spread with help of spatula.
Add choco chips.
Place the second layer dough on top.
Add 1 tbsp ganache and spread on all sides.
Garnish with chocolate shavings on all sides.
Cut into pieces.
Decorate with silver balls, cherry on top,chocolate syrup.
No Bake Chocolate Pastry is ready to serve..Enjoy!!
Thank you so much for lovely comment and watching Video. Click to subscribe https://goo.gl/n9nvav for more such recipes subscribe ☑️ and press👆 the 🔔🔔 Bell Icon. https://goo.gl/n9nvav अच्छे वीडियो को देखने के लिए सब्सक्राइब कीजिये ☑️और घंटी 🔔🔔.. को दबाना न भूले

CONNECT WITH ME: Subscribe- LIKE- Comment-Watch
Youtube: https://goo.gl/n9nvav Subscribe the YouTube Channel- Its Free✔👆
Instagram: https://www.instagram.com/cookwithparul/
Facebook: https://goo.gl/JXAVCA please Like the FaceBook Page
Twitter: https://twitter.com/CookWithParul
Google Plus: https://plus.google.com/u/0/106771386802825110090
Email Id: cookwithparul@gmail.com If you want to know a recipe, then mail it to us at this.