Gulab Jamun is a very famous dessert in the Indian subcontinent. It is made in all festivals, celebrations and marriages. In India, any celebration is incomplete without making this dessert. Kala Jamun is a modified version of Gulab Jamun which has add stuffing in it. Anybody having a sweet tooth has a special love for these. Gulab Jamun is made from milk solids which are then fried and dipped in sugar syrup. It is most famous in North India.
What is it made of
Gulab Jamun is basically fried khoya balls dipped in sugar syrup. Khoya is made by reducing the milk till only the solids remain. It is then cooled and mixed with a binding agent to make balls. The balls are then fried in clarified butter or ghee. After frying it, they need to be soaked in sugar syrup for 3-4 hours. Khoya can be made at home also. While at Indian homes we also use milk powder to make this recipe. Saffron and Rose water play a special role in this dessert to make it more aromatic.
How to make without Mawa/Khoya
In this recipe I will show you how to make them with milk powder. Milk powder is very easily available at home. So to make the process hassle free we do not use khoya. These are as tasty as the ones made from khoya. Make this recipe to make everyone a fan of your culinary skills. Trust me if in this, if you do it right you will never get tired of making this. Making this can be a till tricky for some people. But if you follow the given instructions carefully your Kala Jamuns will turn out perfectly.
Try out other delectable desserts as well
Kala Jamun Recipe|How to make Kala Jamun at Home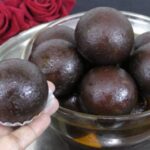 Print
Kala Jamun Recipe
Kala Jamun is a classic Indian dessert made on festivals and various celebrations. It is loved by adults as well as kids. Try this mouth watering dessert at home and enjoy.
Materials
For Sugar Syrup
2

Cup

Sugar

2

Cup

Water

3

pod

Cardamom

Few

Strands

Saffron

1/2

tsp

Lemon Juice
For Dough
1

Cup

Milk Powder

2

tbsp

Maida/All Purpose Flour

1

tbsp

Sooji/Rava

1

tbsp

Ghee

1

Cup

Milk

2

Pinch

Baking Soda
For Stuffing
2

tbsp

Pistachio

2

tbsp

Cashew

2

tbsp

Almond

1

tsp

Sugar

1/4

tsp

Cardamom Powder

1

tbsp

Saffron Water
Instructions
Firstly add 2 cups of sugar and 2 cups of water in a pan.

Once the sugar starts melting add 2 cardamom pods and a few strands of saffron.

Do not forget to add half a tea spoon of lemon juice to avoid crystallization of the syrup.

Check the consistency of the syrup after 5 minutes, if the syrup feels like oil in between your fingers turn off the flame.

Cover the syrup with a lid.

Now to make the dough take 2tablespoons of maida/all purpose flour mix with 1 tablespoon of ghee/oil andRava/sooji each.

To this mixture add 1 cup of milkpowder, 2 pinch baking soda and mix well.

Make a soft dough out of this using 1 cup milk. Do not add the milk all at once. Make sure to add it little by little.

Now to make the stuffing take a small portion of this dough in  separate bowl

Add 2 tablespoon of chopped pistachio, almond and cashew.

To this add 1 teaspoon sugar and mix well.

Do not forget to add 1 tablespoon of saffron water and ¼ teaspoon cardamom powder.

Let the dough rest for 2-3 minutes.

Meanwhile add Oil/Ghee to a pan for frying the balls.

The flame should be low and oil should not be too hot.

Now make balls out of the dough and fill it with the dry fruit mixture.

Make sure that the balls do not have cracks and are smooth.

Add these balls to the oil/ghee and fry in low flame.

After 2-3 minutes start flipping the balls to other sides so that the balls get evenly cooked on all sides.

After the balls start turning golden in colour take them out and add to the hot sugar syrup.

Let them soak for 2-3 hours so that the syrup is completely absorbed.

Your Kala Jamuns are ready to be served.
How to

Serve
These can be served hot or room temperature.It basically depends on how you like to have them. I prefer to heat them in the microwave before serving. It can also be eaten with Vanilla Ice cream. Do not forget to add freshly chopped dry fruits while serving it to the guests.
Notes– Tips and Tricks to make Soft and Fluffy Kala Jamuns
Temperature of the oil- Temperature of the oil should be low while frying to cook the balls completely. Otherwise they will burn from outside and will be uncooked inside.

Balls should be dipped completely in oil while frying- This is also done to make sure the balls are cooked fully. If some portion of the ball is not dipped fully it will also remain uncooked.

Sugar syrup should be hot while adding the balls- If the sugar syrup is not hot the balls will not absorb it completely.

Make sure the dough is soft- Soft dough makes soft Kala Jamuns. It is not possible to make the balls smooth and fluffy with a hard dough. This is the most basic step in this recipe to get right.

The balls should be smooth and crack free- If the balls have crack then the frying will not be uniform. Some portions will be over cooked and some will be under cooked. The sugar syrup will also not be absorbed uniformly.

Before adding the whole batch, add a single ball to check whether it cracks- Sometimes even when everything seems to be fine there is some mistake that we make. In order to avoid wasting the whole batch we should try with a single ball first. If that does not go fine try to make a few changes in the dough according to your judgement.
Kala Jamun Recipe|How to make Kala Jamun at Home
Video of the recipe attached below
kala jamun recipe with gulab jamun mix
kala jamun recipe with milk powder
difference between gulab jamun and kala jamun
kala jamun fruit recipe
kala jamun recipe with paneer
kala jamun recipe without khoya
kala jamun recipe bangla
kala jamun recipe in hindi
How to make Kala Jamun – Khoya Gulab Jamun Recipe
Kala Jamun | Indian Dessert Recipe
Kala Jamun Recipe, Khoya Gulab Jamun Recipe
kala jamun recipe | black jamun recipe with instant khoya
Gulab jamun recipe | How to make gulab jamun
काला जामुन – Kala Jamun recipe
kala jamun recipe | black jamun with khoya or mava
kala jamun, kala jamun recipe, kala jamun fruit, kala jamun in english, kala jamun with milk powder, kala jamun banane ki vidhi, kala jamun in kannada, kala jamun calories, kala jamun with mtr mix, kala jamun recipe, kala jamun, kala jamun kaise banta hai, kala jamun banane ka tarika, kala jamun recipe in telugu, kala jamun recipe in tamil, kala jamun recipe without khoya, kala jamun vismai food, kala jamun ki recipe, kala jamun recipe with milk powder, kala jamun banane ki recipe, kala jamun with gulab jamun mix, kala jamun banavani rit, kala jamun, kala jamun online, kala jamun price, kala jamun in hindi, kala jamun english, kala jamun in tamil, kala jamun in telugu,
gulab jamun recipe, gulab jamun, kala jamun recipe, how to make gulab jamun, kala jamun, kala jamun recipe with milk powder, gulab jamun recipe in hindi, easy gulab jamun recipe, how to make kala jamun, gulab jamun banane ki vidhi, bread gulab jamun, milk powder gulab jamun recipe, khoya gulab jamun, jamun, kala jamun recipe in hindi, gulab jamun recipe with milk powder, bread gulab jamun recipe, milk powder gulab jamun, गुलाब जामुन रेसिपी, gulab jamun with milk powder, bengali kala jamun recipe, best kala jamun recipe, easy recipe of kala jamun, kala jamun recipe with paneer, how to make perfect kala jamun, gulab jamun using milk powder, सबसे आसान गुलाब जामुन की रेसिपी, kala jamun in telugu, indian sweets, black jamun recipe, kala gulab jamun recipe, kala jamun recipe with khoya, indian recipes, kalo jaam recipe, kalo jaam recipe in hindi, indian desserts, kala jamun recipe in tamil, indian sweet, gulab, milk powder, vahchef, diwali sweets, recipe, food, गुलाब जामुन बनाने की विधि, sweets, mawa gulab jamun, brown rasgulla recipe, easy kala jamun recipe, gulab jamun at home in hindi, jamun recipe, khoya gulab jamun recipe, kalo jaam, gulab jamun recipe with khoya, indian, cuisine