Pizza is one recipe loved by all. People of all ages love it. It is the perfect combination of cheese, veggies and bread. Although it is an Italian food, it is immensely popular in India. People here love to eat pizza and have a lot of home grown versions of it. Over the time, through experimenting with the ingredients we have made a lot of Indian versions of the classic Pizza recipe. As India has a lot of vegetarian population, the best pizzas are purely vegetarian here.
What is it made of
Pizza is made of a layer of bread with a lots of vegetables and cheese. It is a baked recipe. First of all a dough is made for the pizza base. The dough is then flattened out and a layer of pizza sauce is spread out. A layer of veggies is then spread followed with cheese of your choice. This is baked in the oven and then served. It has two varieties of bases thn crust and thick crust. Thin crust is thin and crispy while thick crust has thick sides. Also the vegetables can be of your liking.
Special Katori Pizza

without Yeast and Oven
Today I have come a different version of Pizza which is very easy to make and takes very less time to cook. In this recipe I will be making Pizza in a bowl or katori. It will be a one pot meal. The portion size is also fixed in this recipe. The best part about this is that it can be cooked in 1 minute in the microwave. It tastes just as the normal pizza. You can anytime use the veggies of your choice and customize this recipe according to your liking. You do not need any yeast or oven for this recipe. You can make it in kadahi easily.
Try this super amazing recipe and have fun.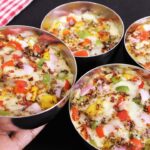 Print
Katori Pizza Recipe
All of us love cheese. Pizza is an Italian recipe but very famous in India. Try out my version of this recipe.
Materials
1

cup

All purpose flour/maida

1/2

tsp

Baking powder

1/4

tsp

Baking Soda

Salt as per taste

1/2

cup

Curd

2

tbsp

Oil

Pizza Sauce

Mozzarella Cheese

Pizza Seasoning/Oregano

Chilli flakes
Toppings
Red Capsicum

Yellow Capsicum

Green Capsicum

Onion
For 1 minute Katori Pizza
2

tbsp

All Purpose Flour

1

pinch

Salt

1

pinch

Baking Soda

3

pinch

Baking Powder

1

tsp

Fresh Curd

1

tsp

Oil

Pizza Sauce

Mozzarella Cheese

Oregano

Chilli Flakes
Instructions
Take a bowl and add all purpose flour/maida into it.

Add baking powder,baking soda,salt, curd and oil into the flour.

Mix all these ingredients well.

Add water into the mix and make a sticky dough out of it.

Meanwhile place a kadahi on high flame and cover it.

Preheat the kadahi for 10 minutes.

Now take 4 katoris of your choice and fill them half with the dough.

Level the dough and apply the pizza sauce over it.

Add the toppings of your choice.

Finally top it with some cheese and pizza seasoning.

Now place a plate on top of the stand inside the Kadahi.

Place all the katoris on the plate and cover the kadahi with the lid.

Cook this on low flame for 15 minutes.

Just to be sure check the pizza after 10 minutes.

After 15 minutes take the katoris out of the kadahi.

Your Katori Pizza is ready to be served and eat it hot.
For 1 minute Katori Pizza
Take a bowl and grease it well with oil.

Add the all purpose flour, baking powder,baking soda, salt,fresh curd and oil.

Mix all these ingredients well.

Add water and make a sticky dough out of it.

Spread the pizza sauce on top of it.

Add the cheese and pizza toppings on top.

Sprinkle some pizza seasoning.

Bake it in the microwave for 1 minute at 180 degree.

Take out the Pizza and serve it hot.